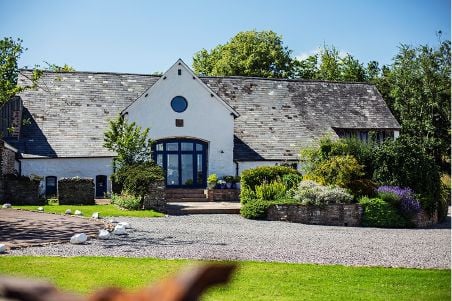 The timber framed Great Barn is available as ancillary entertaining, business or activity space when your rent the residential accomodation. You must rent the Farmhouse to add it to your booking. It has cathedral sized grandeur with a flexible table layout to suit your requirements whether a banqueting table, leaving room for music and dancing or clear for yoga or business activities.
Free WIFI throughout the property
Banqueting tables and chairs provided to seat 80. Also large cosy seating area with sofas for 20.
Fully kitted out with everything needed to cater for large groups
With Ground Source underfloor heating, the vast room is cosy year round. The wood fire adds atmosphere and extra heat.
Stunning views, terraces & gardens
With terraces to the front and rear, the views over the valley or up to the mountain are equally special.
Spacious facilities, with sofa for chats, and 2 WC's